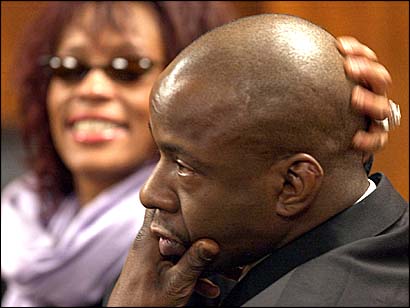 Are Whitney and Bobby over?
New York Daily News 的報導,巴比在日前的演唱會後台休息時跟一群女人嘻笑間透露,他與惠妮已經玩完了,兩人已經做出分居的決定,並準備離婚。
Whitney & Bobby may have made a split decision
Are Whitney Houston and Bobby Brown finally ending their troubled 14-year marriage?
A Lowdown spy reports that the 36-year-old Brown - who shares a 12-year-old daughter with the 42-year-old R&B superstar - has been telling friends and acquaintances they're splitsville.
The weekend before last, during a visit to the Foxwoods Casino in Mashantucket, Conn., Brown was spotted chatting up pretty women backstage while the all-girl group SWV (which stands for Sisters With Voices) performed along with male groups Guy and Blackstreet.
"While flirting with a bunch of women, they asked, 'What's up with your wife?' Bobby said, 'We ain't together no more. We're getting a divorce,' " says the spy.
If the divorce report is true, then Whitney and Bobby might have gotten their last bit of ink as a famous pair with Ebony magazine's "10 Hottest Couples" feature in the latest issue. The Bravo reality show "Being Bobby Brown" spotlighted intimate details of their marriage.
Brown, who's been trying to revive his career as a crooner with a national concert tour this spring, told folks at Foxwoods that he wants SWV to go on tour with him. At one point in the evening, Teddy Riley, founder of the trio Guy, lured Brown onstage to perform an old hit.
The song was titled, maybe appropriately, "My Prerogative."
Brown and Houston's PR rep didn't respond to Lowdown's detailed messages yesterday.